Iraq after ISIL: Baiji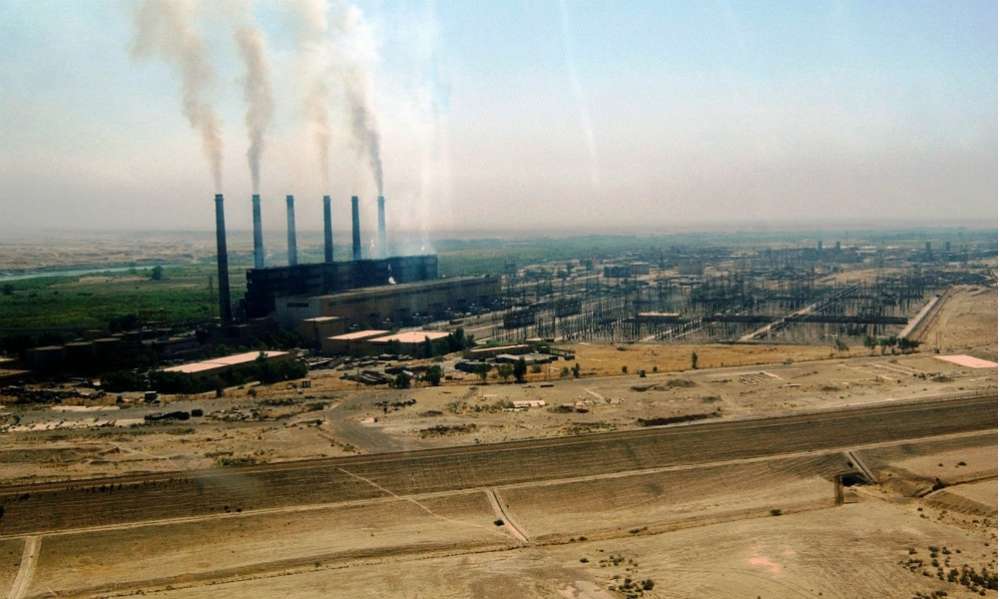 Shi'a
PMF

forces helped to capture and still control significant parts of this Sunni Arab district. They also looted the area's most valuable asset, an oil refinery. Civilian returns have been minimal to this district, which faces diminished economic prospects, ongoing security threats from the frontline, and the presence of

ISIL

and predatory armed groups.



This research summary is part of a larger study on local, hybrid and sub-state security forces in Iraq (LHSFs). Please see the main page for more findings, and research summaries about other field research sites.

Baiji district in Salah al-Din governorate, with a population of about 205,000 residents, is on the road connecting Iraq's two largest cities, Baghdad and Mosul.2 Baiji is integral to Iraq's economy because it contains the country's largest oil refinery, as well as ancillary industries, including a fertilizer factory and a power plant. At its peak, the refinery complex employed more than 20 percent of the district's workforce3 and supplied more than a third of Iraq's domestic energy needs (petrol, diesel, heating oil, motor oil), worth between 5.5 and 6.5 million US dollar per month.4 Like many areas of Salah al-Din, Baiji fell to ISIL in June 2014. After the ISIL invasion, the Popular Mobilization Forces (PMF) took control of much of the district's security, and they remain its primary security actor, despite the formal leadership of the Iraqi Army's Salah ad-Din Operations Command and the Federal Police. Prolonged clashes between ISIL and pro-government forces, as well as looting by the PMF, have decimated the district's infrastructure. In the future, Baiji will continue to be afflicted by ISIL attacks and faces the almost total destruction of its infrastructure. Given this environment, many residents have chosen not to return, and the PMF have blocked residents who do attempt to return, citing security concerns.
ISIL

Invasion of

2014

and Recapture

Prior to the ISIL invasion of 2014, the conditions for the eventual rise of the Islamic State were already in place. Situated at the northern corner of the ​"Sunni triangle," Baiji fell prey to the insurgent, extremist ideology that emerged after the US invasion of Iraq.5 ISIL fighters seized the city of Baiji on June 11, 2014. The militants occupied the periphery of the oil refinery, effectively trapping Iraqi Security Forces (ISF) within its confines, and in October 2014, US forces airdropped food, water, and ammunition to the Iraqi forces stranded there.6

In November 2014, a joint force composed of the Counter-Terrorism Service, the Federal Police, and the PMF (League of the Righteous, Hezbollah Brigades, Badr Organization, Ali al-Akbar Brigades, Imam Ali Brigades, Harakat al-Nujaba)7 mounted an offensive from the direction of Tikrit in the south. Reports suggest that fighters from the Lebanese Hezbollah and the Iranian Revolutionary Guards Corps participated in the operation;8 the US-led Coalition carried out several air strikes.9 The joint forces advanced steadily north and captured Hujjaj, Albu Tu'ma, and Mazra' villages before entering Baiji city on November 11, 2014, and breaking the refinery's siege.

Despite this early success, it would take another year for pro-government forces to gain control of Baiji city, with ISIL making significant inroads in the meantime. Iraqi forces were overstretched in their efforts to secure Baiji and its sprawling oil refinery and prepare an operation to retake neighboring Tikrit.10 On December 17, 2014, ISIL seized Baiji city after intense clashes11 and gained control of parts of the refinery complex. PMF forces held the line south of Baiji, at Mazra' village. According to one report, which local sources could not confirm, they were supported by 70 fighters from the Sunni Liwa Salah ad-Din, also known as the 51st Brigade.12 After months of battles and rapidly shifting lines of control, pro-government forces pushed ISIL out of Baiji city and its refinery in late October 2015.13 ISIL militants retreated from their positions and headed north to the Makhoul mountains, east to Fatha (toward Hawija), and west to Siniyya and the desert, according to locals. Most of these areas remained under ISIL control at the time of writing. With the recapture of Baiji city in October 2015, the ISF also regained control of Highway 1, which has been vital to ongoing anti-ISIL operations in anticipation of Mosul's recapture because it links Baghdad to northern Iraq.14

Key Facts: Baiji
Population: 205,000

Ethnic Composition: Majority Sunni Arab

Date Taken: June 11, 2014

Date Reclaimed: October 22, 201515

Forces Engaged: PMF, Counter-Terrorism Service, Federal Police, US-led Coalition airstrikes, Liwa Salah ad-Din, local police

Overall Control: PMF is the primary security actor in most of the district. ISIL still has pockets of control

LHSFs Present: Shi'a PMF (esp. League of the Righteous, Ali al-Akbar Brigade, Hezbollah Brigades); Sunni Arab PMF

Key Issues:
Infrastructure damage and control of the oil refinery
Ongoing ISIL presence and attacks
Slow return of IDPs due to insecurity and PMF directives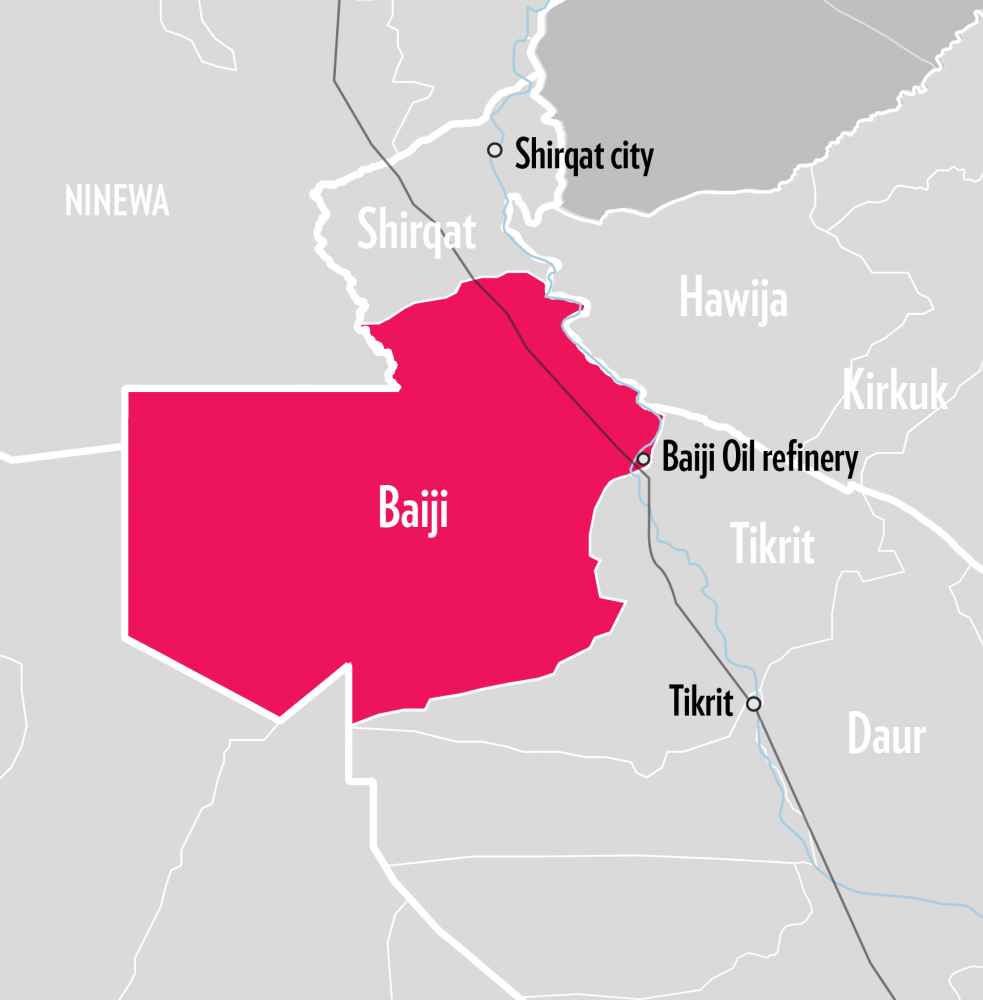 PMF forces have played a significant role in all military operations in Baiji. The top leaders of the Badr Organization and the League of the Righteous were present at the city's recapture.16 Moreover, the PMF's operational commander and leader of the Hezbollah Brigades, Abu Mahdi al-Muhandis, spoke to PMF forces in Baiji after the victory, threatening to hold the US and UK to account for ​"the bloodbath in Iraq, Syria, and Yemen."17 (The US-led Coalition conducted over 40 airstrikes in Baiji between September and October 2015 in support of the joint forces fighting ISIL.18) The PMF remains the principal security actor in the district today.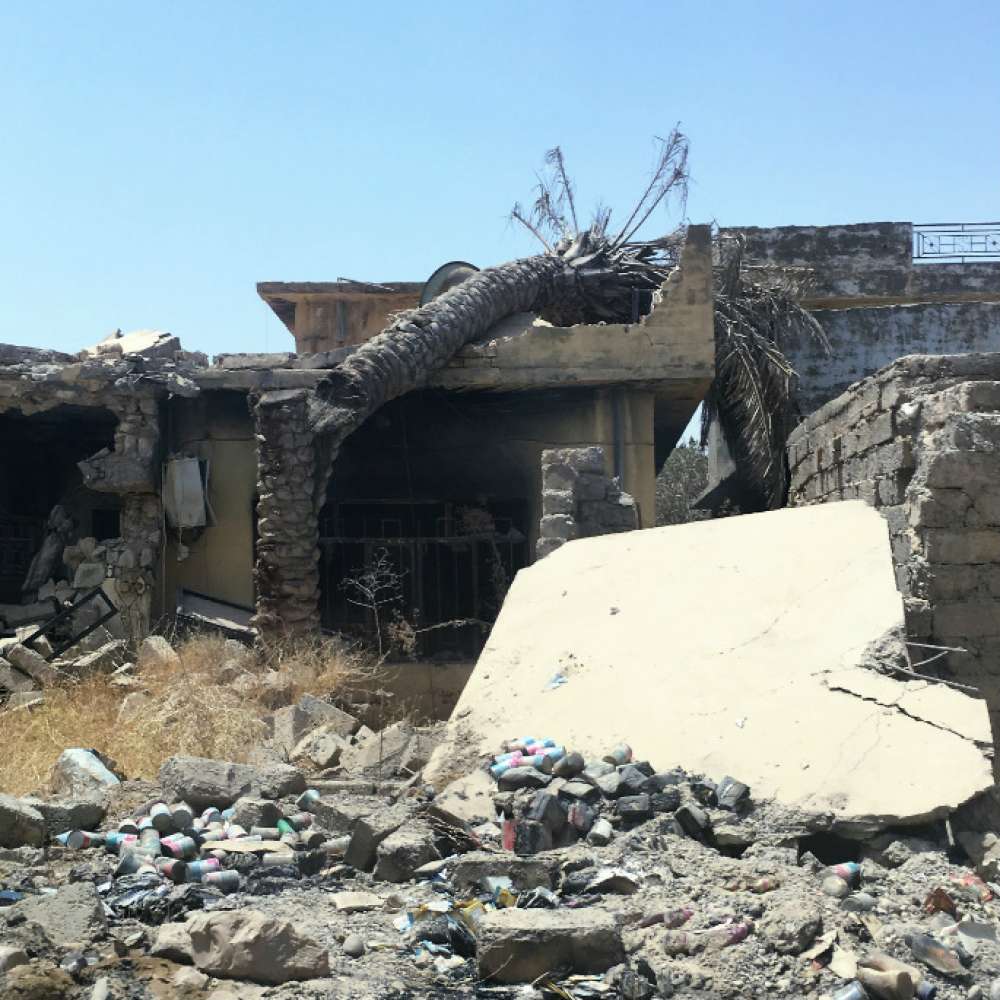 Destroyed building in Baiji city center. Baiji district has seen near-total levels of infrastructure destruction, much of which locals blame on Shi'a PMFs.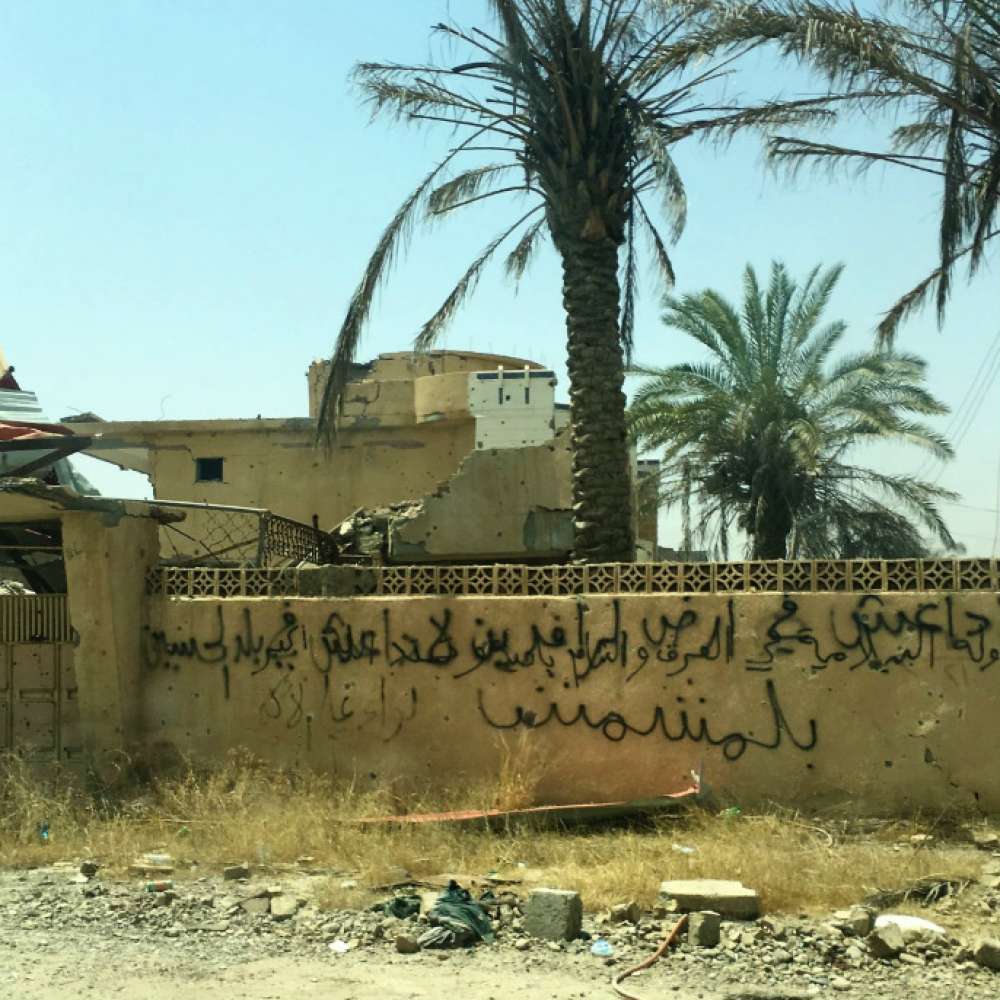 Graffiti outside a building in the southern Asri neighborhood of Baiji. The bottom graffiti derides the ISIL slogan above it, which is overwritten with ​"No ISIL in Hussein's land" and signed by the Ali al-Akbar Brigade, a Shi'a PMF.
PMF

Looting and Infrastructure Damage

After near-total destruction, it will be difficult to rebuild Baiji. About 80 percent of the district's infrastructure has been damaged, turning the area into a ​"shell of its former self."19 Although long months of battle have had their effect, locals pin the blame for Baiji's destruction on the PMF rather than ISIL. One source claimed that the former were 70 percent responsible for the district's infrastructure damage, that 20 percent was caused by ISIL, and that 10 percent resulted from airstrikes. Another source claimed that PMF forces have engaged in acts of destruction and looting and have prevented local officials from initiating basic infrastructure repairs, such as the removal of debris.

The most significant infrastructure damage occurred in the looting of the oil refinery, Baiji's most important economic asset.20 In addition to the damage caused by cross-fighting, the PMF stole equipment from the refinery and sold it for profit, according to a representative of a local security force and a refinery official. According to an oil refinery worker interviewed for this study, the refinery might never regain its pre-2014 level of production because 45 percent of the facility has been destroyed: an estimated damage of two billion USD (an independent expert interviewed for this study claimed the real figure was significantly lower).21 According to local sources, PMF looting extended to the fertilizer plant, the power plant, the railroad station, water purification stations, and most of the private and public property in Baiji.

Although the damage and looting of the refinery have generally been blamed on the PMF (both in media reports and in all this study's interviews),22 there are competing views on the level of involvement by different PMF forces. These discrepancies are at least partly due to the multiple waves of operations and fighting surrounding the refinery. Most sources seem to suggest that the Hezbollah Brigades were centrally involved in the early fighting and the looting of the facility but that as the League of the Righteous gained greater influence in Baiji, it carried out more recent waves of damage and looting. One source claimed that members of the League of Righteous exerted de facto control over the refinery as of August 2017, despite the presence of the oil police – a specialized unit of the ISF.

The Iraqi government, however, has not officially stated that the damage was criminal activity.23 When the Ministry of Oil attempted to investigate acts of theft and damage to the refinery, militias denied them access, according to locals. Militias have also been accused of driving the stolen equipment to the south of Iraq, where it crossed the border into neighboring Iran.
Current Lines of Control
While the Iraqi Army's Salah ad-Din Operations Command is formally in charge of security in Baiji district, all stakeholders interviewed for this research in August 2017 agreed that Shi'a Arab PMF and their local Sunni Arab proxies hold the true power in Baiji.
Local police forces and the PMF's al-Taff Brigade, a splinter group from the Abbas Combat Division, were the primary security actors south of Baiji city, in Hujjaj and Albu Tu'ma villages. The al-Taff Brigade comprises mainly Shi'a Arabs from southern governorates, but one of its regiments (al-Takhi Regiment) draws from the Jibbour tribe, who are local Sunni Arabs.24
Inside Baiji city and to its north, in Makhoul sub-district, the al-Sadr Martyr Brigade (approximately 400 fighters) and the Supreme Reference Supporters Brigade (ansar al-marja'iyya) (approximately 300 fighters) are the primary security actors. For example, these forces control the main checkpoint leading into the city. Other groups are also present. According to an oil worker interviewed in August 2017, the League of the Righteous is officially securing the area around the refinery, which includes about 1,400 houses. The League of the Righteous also controls the northern areas of Baiji district, according to the worker and an additional source interviewed.
The Sunni Arab Liwa Salah ad-Din has a regiment of between 260 and 300 fighters in Baiji. According to one source, 85 percent of the regiment is composed of fighters from the local Qaysi tribe. This force operates primarily in the rural areas north of Baiji city but has recently been allowed into certain neighborhoods on the eastern side of the city. Liwa Salah ad-Din has a much larger footprint in neighboring Shirqat district.
Although Baiji district is predominantly under government control, security is still a significant problem. As of March 2017, ISIL still held territory around the Makhoul mountains, parts of Baiji's power plant, and the desert to the west, and the group has used these positions to launch attacks on other parts of Baiji. These attacks intensified following the ISF's focus on the liberation of Mosul.25 The militants also frequently attempted to disrupt transit on Highway 1, making notable attacks in January 2017.26
IDP

Resettlement and Obstacles to Return

The ISIL invasion of 2014 and ongoing fighting between security forces to reclaim Baiji have displaced the majority of the district's residents. At the time of research, the International Organization for Migration's displacement tracking matrix estimated that 31,530 displaced individuals had returned to Baiji district, which corresponds to roughly 15 percent of the district's population.27 The biggest obstacles to return for the displaced are the presence of Shi'a PMF units and the almost total infrastructure damage within the district. Locals also said that residents have few economic incentives to return as long as the oil refinery remains offline and no compensation is offered for damage to their property.

Returns have been painfully slow and faced limitations, but they have been allowed in some areas. According to local sources, the first IDPs were able to return to Hujjaj and Albu Tu'ma villages south of Baiji in June 2015. At the end of 2015, IDPs could return to Mazra' village eight kilometers south of Baiji city and, in the summer of 2016, to Albu'ayji village, directly southeast of Baiji. In June 2017, 460 families returned to Baiji city (Harijiya, Asri, Jarriya, Jadida neighborhoods), although all of the returnees were family members of security forces.

Although locals report an improved processing of returnee claims, tensions will persist between the Sunni majority and the Shi'a Arab PMF units in charge of securing Baiji, especially due to the looming ISIL threat in the district that has already caused significant loss in life to the PMF. Sunni IDPs have come under scrutiny by PMF units for their perceived ISIL affiliation. Human Rights Watch, reporting in 2016, indicated that League of the Righteous militiamen rounded up thousands of families fleeing from the desert west of Baiji and held them at a food warehouse near Tikrit.28 Other sources have claimed that PMF units operate detention facilities in Baiji, where many of the detained (some estimates place this number at about 7,000 throughout Salah al-Din) were held at the facility based on information provided by informal sources. As an example, one source interviewed for this study claimed that the PMF detained 28 people in Albu Tu'ma village in late 2015; 18 months later, their fates were still unknown. Similarly, Amnesty International reported that a resident fleeing fighting from Shirqat was stopped at the fertilizer plant checkpoint in Baiji, where he was blindfolded by men he believed to be PMF fighters: ​"I spent seven weeks under torture; they wanted me to confess to being Daesh. I was held with about 30 other people in a school…"29 In another, similar incident at a check-point near the Baiji oil refinery, an IDP family was held by PMF units and interrogated about their perceived ISIL affiliation.30 A source interviewed for this report also stated that PMF units use ISIL threats as an excuse to prevent the return of displaced individuals, claiming that their areas are still under ISIL control. He claimed that ISIL relatives are explicitly barred from returning by local authorities if their names show up on a government database that tracks so-called ISIL families. Additionally, according to another source, many of these families are in the Shahama IDP camp, and if they wish to return, they need to receive approval from both PMF forces and local authorities. Generally, returnees need to present a form that allows free movement and that is regulated by the PMF, the Sunni Arab hashd, the police, and an intelligence representative. However, the Shi'a PMF, who possess local IDP files, additionally require returnees to Baiji to present a form that allows for ​"routine" security checks. Thus, the ability to return (and stay) effectively hinges on the PMF's security concerns.
Conclusions
Baiji remains in the grip of Shi'a Arab PMFs, despite the presence of other security actors in the district. Although certain groups of displaced populations were allowed to return as of September 2017, the threat posed by ISIL, near-total levels of infrastructure destruction, widespread looting, and the continued presence of Shi'a PMFs accused of the damage and rights violations against local Sunnis continue to pose strong disincentives for returns. It is unclear whether Baiji city will ever regain its status as an industrial hub, as long as officials from the Ministry of Oil cannot fully assess the damage at the oil refinery. Reinvestment in ancillary industries and other damaged infrastructure in Baiji will likely be minimal until the oil refinery goes online.
References
1 Field research by Amin al-Qaisi. Frauke Maas and Bahra Saleh contributed supporting research.
2 ​"Iraq Troops ​'Push Islamic State from Oil Town of Baiji'," BBC News, November 14, 2014, www​.bbc​.com/​n​e​w​s​/​w​o​r​l​d​-​m​i​d​d​l​e​-​e​a​s​t​-​3​0​0​52714.
3 The refinery employed 10,000 full-time employees and 1,000 daily workers in 2014, according to an official at the refinery.
4 Nabih Bulos, ​"Iraqi Forces Took Baiji from Islamic State, but the Former Boom Town May Be Doomed," Los Angeles Times, June 11, 2016, http://​www​.latimes​.com/​w​o​r​l​d​/​m​i​d​d​l​e​e​a​s​t​/​l​a​-​f​g​-​i​r​a​q​-​b​a​i​j​i​-​2​0​1​6​0​6​1​1​-​s​n​a​p​-​s​t​o​r​y​.html; interview with oil worker.
5 Bulos, ​"Iraqi Forces."
6 Erin Cunningham, ​"Iraqi Troops Struggle to Secure Key Oil Hub Amid Continued Islamic State Resistance," The Washington Post, November 12, 2014, www.washingtonpost.com/world/middle_east/iraqi-troops-battle-islamic‑s|tate-for-control-of-key-northern-oil-city-of-baiji/2014/11/12/de1a7ac2-1727 – 4d0d-a958-f7cfdc11b8e2_story.html.
7 Bill Roggio and Caleb Weiss, ​"Iraqi Army, Shiite Militias Report Success in Baiji," FDD's Long War Journal, October 19, 2015, www​.long​war​jour​nal​.org/​a​r​c​h​i​v​e​s​/​2​0​1​5​/​1​0​/​i​r​a​q​i​-​a​r​m​y​-​s​h​i​i​t​e​-​m​i​l​i​t​i​a​s​-​r​e​p​o​r​t​-​s​u​c​c​e​s​s​-​i​n​-​b​a​i​j​i.php.
8 Abdelhak Mamoun, ​"Iraq Admits Lebanese Hezbollah and Iranian RG Fight Alongside Iraqi Security Forces," Iraqi News, November 9, 2014, www​.iraqinews​.com/​a​r​a​b​-​w​o​r​l​d​-​n​e​w​s​/​f​u​n​e​r​a​l​-​2​-​h​e​z​b​o​l​l​a​h​-​e​l​e​m​e​n​t​s​-​k​i​l​l​e​d​-​j​u​r​f​-​a​l​-​s​a​k​h​a​r​-​b​aiji/.
9 Cunningham, ​"Iraqi Troops Struggle."
10 ​"After Tikrit, Iraqi Forces May Turn Back to Baiji: U.S. Official" Thomson Reuters, April 3, 2015, ca​.reuters​.com/​a​r​t​i​c​l​e​/​t​o​p​N​e​w​s​/​i​d​C​A​K​B​N​0​M​T​2​N​6​2​0​1​50402.
11 Roggio and Weiss, ​"Report Success in Biaji;" ​"Iraqi Forces Suffer Losses in Baiji Fighting as ISIS Regains Upper Hand," Rudaw, December 12, 2014, http://​www​.rudaw​.net/​e​n​g​l​i​s​h​/​m​i​d​d​l​e​e​a​s​t​/​i​r​a​q​/​2​2​1​22014.
12 Nour Samaha, ​"Iraq's Good Sunni," Foreign Policy, 16 November 2016, for​eign​pol​i​cy​.com/​2​0​1​6​/​1​1​/​1​6​/​i​r​a​q​s​-​g​o​o​d​-​s​unni/.
13 ​"Iraqi forces and militia seize most of Baiji refinery: officials," Reuters, October 15, 2015, http://​www​.reuters​.com/​a​r​t​i​c​l​e​/​u​s​-​m​i​d​e​a​s​t​-​c​r​i​s​i​s​-​i​r​a​q​-​b​a​i​j​i​/​i​r​a​q​i​-​f​o​r​c​e​s​-​a​n​d​-​m​i​l​i​t​i​a​-​s​e​i​z​e​-​m​o​s​t​-​o​f​-​b​a​i​j​i​-​r​e​f​i​n​e​r​y​-​o​f​f​i​c​i​a​l​s​-​i​d​U​S​K​C​N​0​S​9​1​G​S​2​0​1​51015.
14 ​"10 Security Members Killed in IS Attacks in Iraq's Salahudin Province," Xinhua, August 16, 2017, http://​news​.xin​huanet​.com/​e​n​g​l​i​s​h​/2017 – 08/16/c_136530916.htm.
15 Bulos, ​"Iraqi Forces;" Zhelwan Wali, ​"US joint chiefs: ISIS is ​'adaptable and flexible,'" Rudaw, October 22, 2015, www​.rudaw​.net/​e​n​g​l​i​s​h​/​m​i​d​d​l​e​e​a​s​t​/​i​r​a​q​/​2​2​1​0​20153.
16 Michael R. Gordon, ​"Iraqi Forces and Shiite Militias Retake Oil Refinery from ISIS," The New York Times, October 16, 2015, www​.nytimes​.com/​2​0​1​5​/​1​0​/​1​7​/​w​o​r​l​d​/​m​i​d​d​l​e​e​a​s​t​/​i​r​a​q​i​-​f​o​r​c​e​s​-​a​n​d​-​s​h​i​i​t​e​-​m​i​l​i​t​i​a​s​-​r​e​t​a​k​e​-​o​i​l​-​r​e​f​i​n​e​r​y​-​f​r​o​m​-​i​s​i​s​.html.
17 ​"Abu Mahdi al-Muhandis Threatens the US and Pledges to Hold the US to Account for its ​'Sins' in Iraq if it Does Not Stop Now," YouTube video, 1:10 minutes, October 24, 2015, https://​www​.youtube​.com/​w​a​t​c​h​?​v​=​w​U​6​V​B​M​rijOk
18 Michael R. Gordon, ​"Iraqi Forces and Shiite Militias Retake Oil Refinery from ISIS."
19 Samaha, ​"Iraq's ​'Good Sunni'."
20 ​"Fwd: Iraq's Deepening Fiscal Crisis and OPEC/​RF," Wikileaks, accessed August 18, 2017, wik​ileaks​.org/​b​e​r​a​t​s​-​b​o​x​/​e​m​a​i​l​i​d​/​16513.
21 Iraq Oil Report staff, ​"Once Fixable, Baiji Refinery Plundered beyond Repair," Iraq Oil Report, January 28, 2016, www​.iraqoil​re​port​.com/​n​e​w​s​/​f​i​x​a​b​l​e​-​b​a​i​j​i​-​r​e​f​i​n​e​r​y​-​p​l​u​n​d​e​r​e​d​-​b​e​y​o​n​d​-​r​e​p​a​i​r​-​1​7812/.
22 Alaa al-Marjani, ​"Iraqi Army Still Ineffective Despite U.S. Training" Newsweek, June 4, 2016, http://​www​.newsweek​.com/​i​r​a​q​i​-​a​r​m​y​-​i​n​e​f​f​e​c​t​i​v​e​-​d​e​s​p​i​t​e​-​u​s​-​t​r​a​i​n​i​n​g​-​4​66410; Saadallah Al Fathi, ​"Baiji Refinery Must Be Salvaged Before it's Too Late," Gulf News, January 10, 2016, gulfnews.com/business/analysis/baiji-refinery-must-be-salvaged-before-it-s-too-late‑1.1651113.
23 ​"Re: Iraq MP Fears Assassination if Oil Thieves Are Exposed," Forbidden News, December 4, 2016, http://​www​.for​bid​den​news​.info/​r​e​-​i​r​a​q​-​m​p​-​f​e​a​r​s​-​a​s​s​a​s​s​i​n​a​t​i​o​n​-​i​f​-​o​i​l​-​t​h​i​e​v​e​s​-​a​r​e​-​e​x​p​osed/; Saadallah Al Fathi, ​"The wanton dismantling of an Iraqi refinery," Gulf News, January 31, 2016, gulfnews.com/business/analysis/the-wanton-dismantling-of-an-iraqi-refinery‑1.1662932.
24 The al-Takhi Regiment also has some forces north of Baiji, in Makhoul sub-district and Sheikh Ali village.
25 Mustafa Habib, ​"While All Eyes on Mosul, Extremists Return to Other Iraqi Provinces," Atlantic Council, March 15, 2017, www​.atlantic​coun​cil​.org/​b​l​o​g​s​/​m​e​n​a​s​o​u​r​c​e​/​g​h​o​s​t​s​-​o​f​-​t​h​e​-​i​s​l​a​m​i​c​-​s​t​a​t​e​-​w​h​i​l​e​-​a​l​l​-​e​y​e​s​-​o​n​-​m​o​s​u​l​-​e​x​t​r​e​m​i​s​t​s​-​r​e​t​u​r​n​s​-​t​o​-​o​t​h​e​r​-​i​r​a​q​i​-​p​r​o​v​inces.
26 Emily Anagnostos and the ISW Iraq Team, ​"Iraq Situation Report: December 21, 2016 — January 5, 2017," Institute for the Study of War, January 5, 2017, http://​iswre​search​.blogspot​.de/​2​0​1​7​/​0​1​/​i​r​a​q​-​s​i​t​u​a​t​i​o​n​-​r​e​p​o​r​t​-​d​e​c​e​m​b​er-21 – 2016.html.
27 ​"Displacement Tracking Matrix," International Organization for Migration, accessed August 18, 2017, http://​iraqdtm​.iom​.int/​R​e​t​u​r​n​e​e​M​L​.aspx.
28 ​"Iraq: Ban Abusive Militias from Mosul Operation. Unpunished Killings, Torture Put Civilians in Harm's Way," July 31, 2016, Human Rights Watch, www​.hrw​.org/​n​e​w​s​/​2​0​1​6​/​0​7​/​3​1​/​i​r​a​q​-​b​a​n​-​a​b​u​s​i​v​e​-​m​i​l​i​t​i​a​s​-​m​o​s​u​l​-​o​p​e​r​ation.
29 Amnesty International, Iraq: Turning a Blind Eye: The Arming of the Popular Mobilization Units (London: Amnesty International, 2017), www​.amnesty​.org/​e​n​/​d​o​c​u​m​e​n​t​s​/​m​d​e​1​4​/​5​3​8​6​/​2​0​1​7/en/.
30 Amnesty International, Iraq: Turning a Blind Eye, 20.