"What should we have to say about it?" Perspectives on Peace in Eastern Ukraine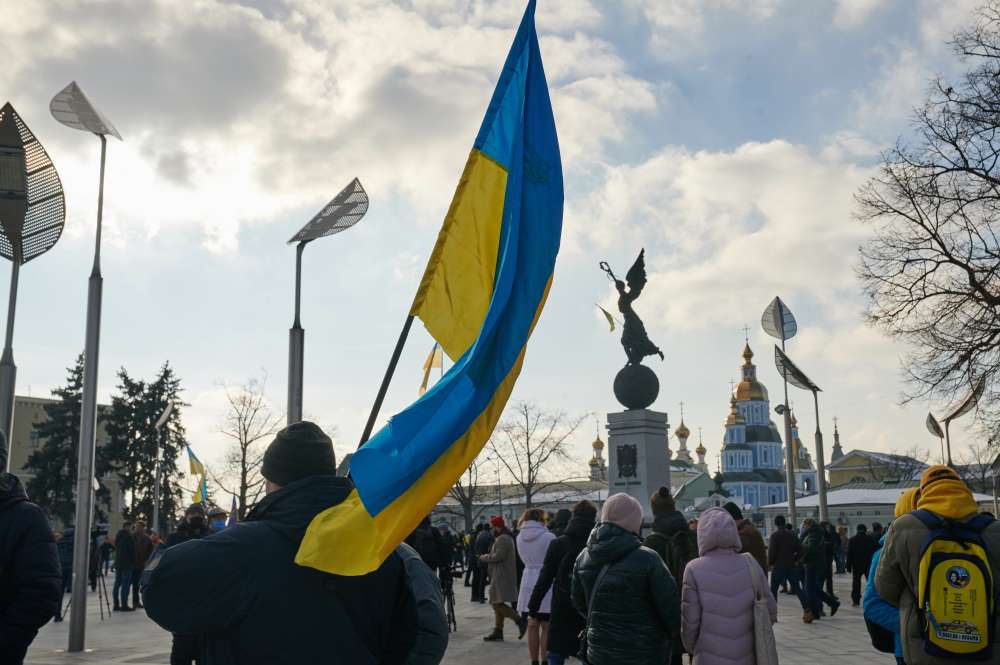 A rally in Kharkiv, Ukraine on February 5, 2022. Source: Vitalii Vitleo /​Shutterstock
Disclaimer: The research for this study was conducted, and the text drafted and finalized, prior to February 21, 2022 – meaning before Russia's ​"recognition of independence" of the so-called Donetsk and Luhansk People's Republics and before Russia's invasion of Ukraine on February 24, 2022. The findings described and explained below are the product of a specific context, namely that of eastern Ukraine in 2021. Still, some of our conclusions remain valid despite the changed circumstances.
---
Eight years after the Russian intervention and outbreak of violent conflict in Donbas, Ukrainians are increasingly divided over how to resolve it and which trade-offs they are willing to accept to achieve peace.
This study focuses on the attitudes and perceptions of two stakeholder groups that will be crucial in any potential reintegration of the non-government controlled territories of Donbas: veterans of the Donbas conflict and internally displaced persons (IDPs) residing in eastern Ukraine (which includes the Kharkiv, Dnipropetrovsk, Zaporyzhia, and the government-controlled Luhansk and Donetsk regions).
Using surveys and interviews conducted between August and November 2021, we find that the population in Ukraine's government-controlled east is extremely disillusioned. Those who describe themselves as strongly conflict-affected have developed at times diametrically opposing positions when it comes to resolving the conflict or discussing any kind of compromise. The general population, IDPs and veterans alike feel that they do not possess the agency to participate in political life. This representation gap is reinforced by a civil society that seems disconnected from the rest of the population.
A loss of agency is also the predominant sentiment expressed when considering a resolution to the Donbas conflict: as existing negotiation formats systematically exclude bottom-up voices, the peace process remains impenetrable to most Ukrainians. In this complex environment, in particular veterans' and IDPs' experiences of the conflict fuel mutual mistrust and lead them to draw at times opposing conclusions and outlooks on how to best resolve it.
IDPs have a surprisingly homogeneous attitude on the future of Donbas. The majority of them – sometimes a large majority at that – are willing to agree to substantial compromises in order to achieve a peaceful resolution to the conflict. In large part, this willingness is fueled by concern for their relatives in the non-government controlled parts of Donbas. Therefore, most IDPs strongly oppose military action or freezing the conflict. As many in today's Ukraine are unaware of the IDPs' political agenda, the potentially traumatic experience of displacement remains underestimated.
Societal and international stakeholders alike commonly see veterans as veto players who are unwilling to compromise and will spoil any efforts toward peace. This assessment fails to recognize the full complexities of veteran perspectives. While there is a clear majority against Minsk-style compromises among veterans in eastern Ukraine, they are strongly divided on other issues. These include preferences for the return of non-government controlled areas by militarily means and attitudes toward those residing in these regions. There is thus no ​"singular" veteran perspective. Rather, opinions depend on personal experiences and circumstances.

---
The full report is available for download in English and Ukrainian.


This project was funded by the Konrad-Adenauer-Stiftung​'s Kharkiv Office.