To Mediate with Russia, Germany Must Find its Strength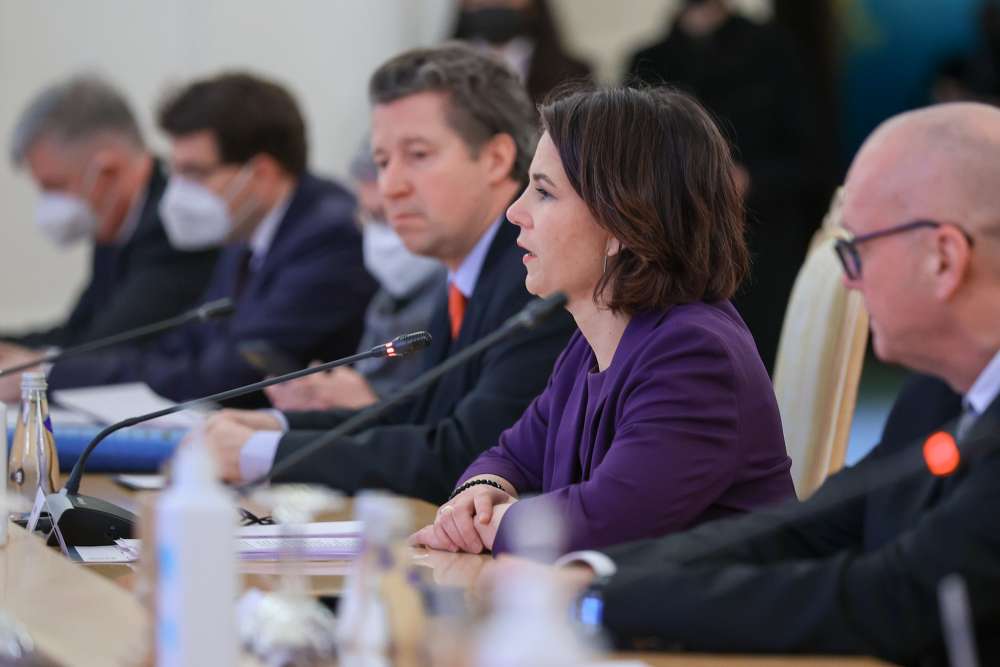 German Foreign Minister Annalena Baerbock during her trip to Russia on January 18, 2022. Source: MFA Russia /​Flickr
A few years ago, I had a conversation with a Russian investigative journalist in Moscow. I asked him if it was possible to criticize official Kremlin policies while simultaneously supporting civil actors to present a different picture of Russia in Germany. He told me that he did not see a problem: you simply have to know how to distinguish right from wrong and support the good without the bad.
This kind of thinking is precisely what Berlin lacks at the moment. The new German government – just like its predecessor – is struggling to find a way of dealing with Russia that clearly draws a line between support and criticism. Among alarmingly large parts of the political, a tough stance against the Kremlin is interpreted as ahistorical Russophobia. Meanwhile, Kyiv and the wider international community hold their breath as Moscow is amassing troops at Ukraine's border and threatening to further invade. Experts, politicians, and self-proclaimed Kremlinologists have speculated for months about how far Moscow will go but, at the moment, nobody knows for sure.
In Germany, it took weeks to consolidate internal party disputes and coalition quarrels to agree that ​"everything is on the table" when it comes to sanctions. While this is a step in the right direction, doubts remain whether Germany's resolve to impose sanctions will crumble if push comes to shove. As if that were not enough, the German government has repeatedly made it clear that arms deliveries to Ukraine are off the table. Ukraine lost its patience with Berlin long ago — and even allies are bewildered by the relative inaction of a country that, in 2014, claimed leadership of the European response to the illegal annexation of Crimea and the war in eastern Ukraine.
How should Germany respond to the real threat of another Russian invasion of Ukraine? Some believe that Berlin should take the toughest stance possible vis- à‑vis Russia; others advocate for dialogue at all costs – even if that means toeing the line to avoid confrontation. The German government's official policy is a mix of both, or ​"dialogue and toughness."
But at the moment, neither side of the equation is adding up. Allies and partners are questioning Germany's willingness to be tough, and as a result, dialogue is at a near-standstill. Moscow does not want to talk to Berlin, but to Washington. If Germany wants to be taken seriously as a mediator, it must assume a position of strength. To make this happen, Berlin's new coalition needs to take three key steps: see Russia with clear eyes, recognize Ukraine as an equal partner, and let go of its self-appointed ​"special role" among allies.
See Russia with Clear Eyes
In a recent interview, German politician Markus Söder said that ​"nobody wants a war in Europe." The truth is that the limited and sometimes covert use of military force, such as in Libya, Syria, and eastern Ukraine, has been effective at helping Russia achieve its political goals. Not all countries consider military means to be a thing of the past.
But instead of enacting tough countermeasures, Berlin is busy explaining to misguided naval officers and left-wing politicians that the annexation of Crimea was illegal under international law and that the Kremlin is not a ​"reliable partner." To the contrary, Moscow has largely succeeded in crushing all forms of civil activism. In December, a Russian court liquidated the country's oldest and most well-known human rights organization, Memorial. Activist Aleksey Navalny was declared a ​"terrorist" just last week. These actions are clear alarm bells for anyone paying attention. Again, it all comes back to the importance of distinguishing between the government and civil society.
During her visit to Moscow, German foreign minister Annalena Baerbock referenced this distinction rhetorically – but this stance has yet to spread to the rest of the German government. To those calling for a ​"dialogue on equal footing" with Russia, it should be clear that each of these attempts has failed. Just ask French president Emmanuel Macron what happened to his ​"dialogue stratégique" or to former US president Barack Obama's ​"reset" – nothing.
Recognize Ukraine as an Equal Partner
Although Ukraine is a constant topic in Germany, above all, it is the backdrop for Berlin's policies towards Russia. To mediate between Moscow and Kyiv, Berlin needs both Russia and Ukraine's trust.
German-Ukrainian relations have been at an all-time low since the summer of 2021 when the Nord Stream 2 gas pipeline deal between U.S. president Joe Biden and then-German chancellor Angela Merkel was signed. It caused an uproar in Kyiv and Berlin wanted nothing to do with the fallout. Some of Foreign Minister Baerbock's recent statements in Kyiv show just how far-removed Berlin is from the situation on the ground. She claimed that Germany could not supply Ukraine with weapons because of its historical responsibility to Russia. For Ukrainians — whose country was occupied by Nazi Germany during World War II and was one of the main sites of the Holocaust – this seemed like ridicule.
Yes, Ukrainian ambassador to Germany Andriy Melnyk can come across quite shrill at times, as do statements defaming Berlin as Moscow's ​"accomplice" in Kyiv's political circles. But the disapproval of Germany is no longer limited to these voices. Ukrainian foreign minister Dmytro Kuleba, who is usually friendly toward Berlin, summoned the German ambassador for an explanation. Since 2014, Germany has invested heavily in Ukraine's democratic transformation — more than it has in most other countries. However, Berlin's failure to actively communicate this to Ukrainians is now coming back to bite it.
Taking Ukraine and its interests seriously does not mean endorsing everything that Kyiv does. On the contrary, it means holding Ukraine responsible for its own future — including for its faltering political reform efforts. Germany's efforts to revive the Normandy format is a crucial step in bringing Kyiv back to the table for talks with Russia. However, any move toward dialogue will only succeed if it is accompanied by strength. Otherwise, Russia will not participate in the conversation — or will only do so in an advisory capacity.
Abandon Berlin's ​
"

Special Role" Among Allies

At the moment, Germany risks long-term damage to its international reputation. Germany's self-image as a once-divided country that now serves as a bridge between East and West is so strong that it no longer questions its aptitude for this role. Yet, Berlin has been slow to recognize the growing doubts from Washington and Kyiv about its willingness to implement its vague promises. Moscow is certainly aware of such dissonance among allies and will relentlessly exploit it if given the chance.

It is time for the German government to lay aside its claims to having a ​"special" role. As the German foreign minister herself recently proclaimed before the Bundestag, a key part of any alliance is its division of labor. But this division of labor does not work if, in striking a balance between ​"dialogue and toughness," one actor relies explicitly on the strength of others while viewing itself as the only possible bridge to dialogue. Under Merkel, Germany was the driving force behind the EU's approach to Russia. Chancellor Olaf Scholz must now take up this mantle and go further than his predecessor when it comes to projecting strength.

Abandoning this self-assigned ​"special role" also means Berlin should stop blocking the supply of defensive weapons to Ukraine from other allies. If direct German arms deliveries are really a no-go for the current government, or will only be possible later on, then Germany's focus should be to supply Ukraine with more military equipment than it currently is. The mockery resulting from Berlin's initial delivery of 5,000 helmets shows that such measures should be accompanied by a clever communications campaign in Ukraine as well as in Germany.
We Need to Talk About the European Security Order
"We need a dialogue with Russia" – Yes! Of course, Europeans need to have a dialogue with Moscow. The question is, what kind of dialogue and from which position? If the only time Europeans talk to Russia is when it is holding Ukraine at gunpoint, then we are certainly not engaging in the much-sought-after ​"dialogue on equal footing."
A German policy that confronts Russia from a place of strength can also stimulate a larger conversation on security in Europe. Such a dialogue must emphasize the sovereignty of all states, including Ukraine, and form around a rules-based multilateralism. This is what the German coalition government's ​"values-based foreign policy" should look like – and it would be an effective way to distinguish right from wrong in dealing with Russia.
---
This commentary was originally published in The National Interest on February 04, 2022.