Europe Needs to Step Up Vigilance on China's Influence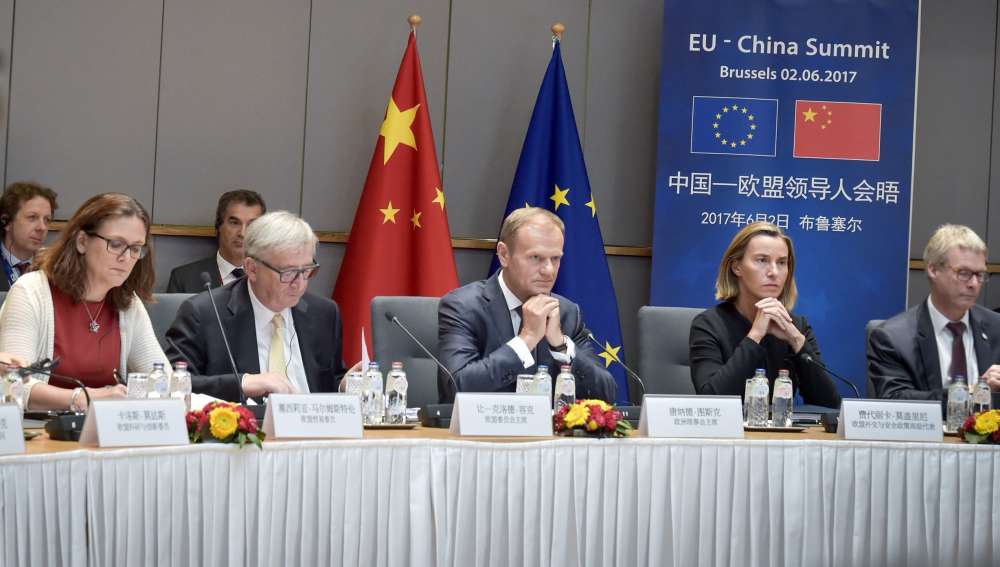 Source: European External Action Service /​Flickr
Mike Pompeo, the director of the US Central Intelligence Agency, said last month that Beijing's efforts to exert influence in liberal democracies are just as concerning as those of Moscow, citing China's ​"much bigger footprint". Indeed, China's rapidly increasing political influencing efforts and the self-confident promotion of its authoritarian ideals present a fundamental challenge to western democracies.
Drawing on its economic strength and a Communist Party of China apparatus that is geared towards strategically building stocks of influence across the globe, Beijing's efforts are bound to be much more consequential in the medium to long term than those of the Kremlin. Nowhere is the gap between the scale of China's efforts and public awareness of the problem larger than in Europe. EU member states urgently need to devise a strategy to counter China's authoritarian advance.
As we detail in a new report, Beijing pursues three related goals. First, it seeks to weaken western unity within Europe and across the Atlantic. One aim of this is to prevent Europe from challenging China's human rights record and its hegemonic ambitions in the South and East China seas.
Second, it aims to build European support on specific issues such as market economy status and a free pass for Chinese investments.
Third, Beijing pushes hard to create a more positive global perception of China's political and economic system as a viable alternative to liberal democracies. To further these goals, China commands a comprehensive and flexible influencing toolset in Europe, ranging from the overt to the covert and strategically deployed across three arenas: political and economic elites, media and civil society & academia.
Beijing uses investments in infrastructure and public utilities to create political leverage in Europe's periphery. In Greece, for example, it controls the port of Piraeus, leading the government in Athens to torpedo a joint EU resolution on human rights in China in the Human Rights Council.
In the Czech Republic, it placed an adviser in the president's office. Across Europe, it buys the services of former politicians such as Philipp Roesler, the former German vice-chancellor who was hired by HNA, the Chinese conglomerate, and David Cameron, the former UK prime minister, who has signed up to lead a joint UK-China investment fund.
Many smaller eastern and southern EU members align with China in fits of ​"pre-emptive obedience". They try to curry favour with China and lure investment by supporting China's political positions. Some illiberal governments, such as that of Viktor Orban in Hungary, do so all too happily. They see China's authoritarian model as attractive and a convenient source of leverage against Brussels and western EU members pushing back against their illiberalism.
Mr Orban has already played the China card to put pressure his EU partners who are considering reducing structural funds in response to his authoritarianism and a post-Brexit recalibration of the EU budget. ​"Central Europe needs capital to build new roads and pipelines. If the EU is unable to provide enough capital, we will just collect it in China," Mr Orban said in Berlin this year.
To sweeten the deal for China, Mr Orban is gladly working to prevent a strong EU stance on China's territorial advances in the South China Sea.
In parallel, Beijing has invested in shaping the narrative on China. Across central and eastern Europe, China-supported Confucius Institutes, as well as China-linked think-tanks and university scholars dominate discussions, while an increasing number of journalists go through training programmes designed and funded by the Chinese Communist party.
In Brussels and other capitals, China funds think-tanks and pays lobbyists to project a favourable image. It spreads Chinese official views and creates subtle dependencies by paying for inserts in European quality newspapers.
It uses the lure of the Chinese market to encourage self-censorship in film, art, and academic publishing. Springer Nature, the German group that publishes Scientific American, has removed content in China that was deemed politically sensitive by the party.
China even went as far as demanding that Germany ensure that its visiting football teams are not met by protests about Tibet during paid friendly games on German soil.
In part, China uses covert methods, such targeting German lawmakers and government employees via fake social media profiles. But most influencing comes through the front door. Beijing takes advantage of the EU's one-sided openness. Europe's gates are wide open whereas China seeks to tightly restrict access of foreign ideas, actors and capital.
Beijing profits from willing enablers among European political and professional classes who are happy to promote Chinese values and interests. They do so mostly for financial or other advantages but at times also out of genuine political conviction or convenience. Rather than only China trying to actively build up political capital, there is also much influence courting on the part of those political elites in EU member states.
China has already made significant progress toward a more fragmented and pliant Europe that better serves its authoritarian interests. If Europe intends to stop the momentum of Chinese influencing efforts, it needs to act swiftly and decisively. In responding to China's advance, European governments need to make sure that the liberal DNA of their countries' political and economic systems stays intact.
Some restrictions will be necessary, but Europe should not copy China's illiberalism. While staying as open as possible, Europe needs to address critical vulnerabilities to Chinese authoritarian influencing through a multi-pronged strategy that integrates different branches of government, businesses, media, civil society, culture/​arts as well as academia.
To better leverage the collective weight of EU member states, larger member states, such as Germany and France, need to take serious steps towards putting their privileged bilateral relations with China in the service of common European interests. Complaining about the 16+1 format China uses to interact with smaller EU members in central and eastern Europe while engaging in 1+1 formats with Beijing undermines a common EU response to challenges from China.
In addition, European governments need to invest in high-calibre, independent China expertise. Raising awareness about and responding to China's political influencing efforts in Europe can succeed only if there is sufficient impartial expertise on China in think-tanks, universities, NGOs and media across Europe.
Furthermore, the EU needs to continue providing alternatives to the promises of Chinese investments in European countries. It also needs to enable EU members and third countries in the neighbourhood to properly evaluate, monitor and prepare large-scale infrastructure projects, including those financed by China.
The EU and its members must be able to stop state-driven takeovers of companies that are of significant public interest. In addition to high-tech sectors as well as key parts of public infrastructure, this notably includes the media, as an institution of critical importance to liberal democracies.
Foreign funding of political parties from outside Europe, not least from China, should be banned across the EU. European intelligence services urgently need to enhance co-operation on Chinese activities to arrive at a common understanding of the threat and to deliver joint responses.
EU members should put additional awareness-building measures in place sensitize potential targets of Chinese intelligence activities. In particular, decision makers and scholars should be briefed more systematically about common patterns of contact-building and approaches by Chinese intelligence agencies or related actors.
For the wider public to get a full picture of authoritarian influencing, liberal democracies need to leverage one of the key assets of open societies: the power of critical public debate. Implementing transparency requirements concerning collaboration with Chinese actors for media agencies, universities and think-tanks, among others, would help raise awareness of the various influencing mechanisms Chinese state actors employ.
"Vigilance is wise; confidence a useful adjunct," the Economist counselled recently in a piece on China's influence in Europe. With the necessary defensive mechanisms in place, confidence should come more easily.
…
This commentary was originally published by the Financial Times on February 16, 2018.