Immigration Policy as Foreign Policy
The West's ​
"

New Partnership" With African States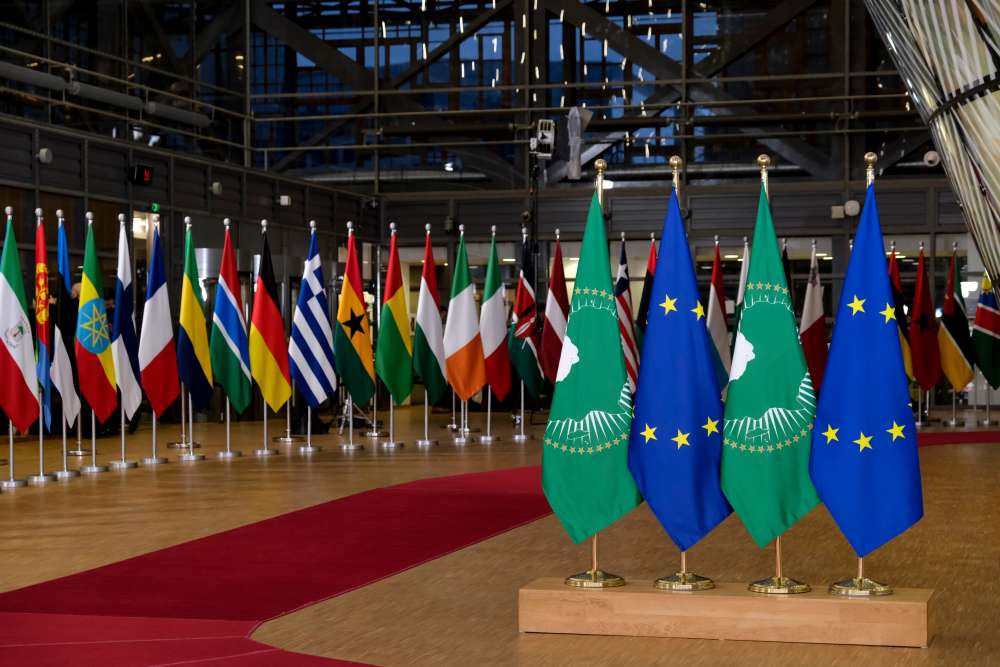 Source: Alexandros Michailidis /​Shutterstock
When asked about Germany's relationship with African states at the Global Solutions Summit earlier this month, German Chancellor Olaf Scholz spoke of creating a ​"new partnership between countries of origin and countries where there is a request for labor." This nod to the importance of immigration policies comes at a time when Western policymakers are re-examining their ties with African states in light of their ambivalent reactions to Russia's invasion of Ukraine. When asking ​"why are they not with us?" on issues like the war in Ukraine, Western governments must recognize the foreign policy implications of their long failure to establish equitable immigration policies with African nations. To rectify this, now is the time to start viewing immigration as a part of foreign policy.
Contemporary European and American strategies have largely revolved around creating a ​"hostile environment" for irregular immigration, ranging from Trump-era travel bans in the United States to the EU's imposition of ​"conditionality" on development aid to encourage African states to slow migration. At the beginning of 2020, the Trump administration barred immigration from Nigeria, making it the fourth African country subject to US travel bans. The US administration justified this by citing ​"the policy of the United States to protect its citizens from terrorist attacks, including those committed by foreign nationals." In comparison, the EU has sought to impose more subtle curbs on irregular immigration by making development cooperation dependent on fulfilling EU migration-management objectives. For example, the 2020 revision to the Visa Code allowed EU member states to reward countries that collaborated in migrants' re-admission with easier visa procedures and shorter processing times. Some have proposed extending this further, with a 2019 discussion paper suggesting that ​"all relevant EU policies, instruments and tools, including development, trade and visa[s]" should be utilized to encourage third-countries to adopt the EU's view on migrant re-admission. It is within this context that the United Kingdom recently proposed to deport a segment of irregular migrants to Rwanda. These policies are meant to assuage the electorates' concerns around the perceived impact of immigration – an area that, in general, has largely been seen as a domestic concern. However, this framing ignores the impact of Western immigration policies on African countries, contributing to their broader alienation from the West. And this falls squarely in the sphere of foreign policy.
What these measures fail to consider is the importance of emigration for countries in sub-Saharan Africa – especially the value of remittance payments from migrant communities. Data from the 2022 MEDAM Assessment Report showed that remittances – i.e., money transfers from an individual or family member to another individual or household – accounted for 16% of GDP for Nigeria, 10% for Senegal and 15% for the Gambia. Therefore, Western attempts to curb irregular immigration (loosely defined by the European Commission as immigration ​"without the necessary authorization or documents required under regulations") without expanding opportunities to access those proper authorizations and documents pose a financial threat to many countries.
In 2018, Ethiopian Prime Minister Abiy Ahmed highlighted the importance of remittances in his call on the Ethiopian diaspora to send the government one dollar a day via a ​"diaspora trust fund" to help tackle the nation's foreign exchange shortage. Similarly, in 2022, Nigerian President Muhammadu Buhari praised Nigerian migrants for supplying more in remittances than Nigeria received in foreign direct investment, saying ​"this is most commendable and in our enlightened collective self-interest." Immigration also presents valuable educational opportunities to African populations. In his recent visit to the UK, South African President Cyril Ramaphosa called on the British government to increase the number of funded PhD programs available to South African students through the Chevening Scholarship scheme – which pointedly came at the same time that Home Secretary Suella Braverman sought to deter foreign students from attending UK universities.

Against this backdrop, it is no surprise that the West's stringent immigration policies have provoked anger in African states. The Institute for Security Studies, a think-tank based in South Africa, warned that the UK's migration deal with Rwanda degrades the notion of a rules-based international order and runs contrary to the 1951 Refugee Convention. Similarly, the South African Institute of International Affairs (SAIIA) predicted that Trump's travel bans would alienate African governments, saying ​"the Trump administration has systematically – and perhaps permanently – shattered Africans' perceptions of the US as a land of freedom, justice, and opportunity." Beyond economic concerns, the SAIIA has likened EU deals with Libya and Turkey to limit migration to ​"supping with the devil" and claimed that the policy ​"undermines [EU states'] image as promoters of human rights and protectors of the Western liberal order." Anger over Western attitudes on migration was on display during French politician Marine Le Pen's recent visit to Senegal, where – despite the Senegalese government's attempts to limit press scrutiny – former Senegalese Cabinet Minister Aida Mbodj said ​"no African has the right to extend any tolerance whatsoever to Marine Le Pen."
With more than half of Africa's young people considering emigrating, many African states fear a ​'brain drain' that could counteract the benefits of remittances. This is especially true if Western nations expand routes for regular economic migration, as Canada is doing. However, removing punitive curbs on irregular migration and reforming official immigration routes can complement economic development support. German Chancellor Scholz himself addressed this at the Global Solutions Summit, arguing that Europe must help ​"create an atmosphere for investment" in African countries – while still acknowledging that, with 70% of the sub-Saharan African population under 30 years old, economic migration will continue.
To better the situation, Western states must cease to view migration as a purely domestic issue with policies set by national ministries. Instead, immigration regulations should be considered in their foreign policy context. A step in this direction would be to abandon punitive measures that pressure African states to subscribe to certain migration policies, such as stringent immigration bans or making trade and visa agreements contingent on re-admission. In February, Spain's Foreign Minister pledged to begin ​"a new era of relations with Africa"– and Madrid's upcoming EU presidency presents an opportunity to make good on this promise. A helpful example to follow would be Germany's Western Balkans program: Under this system, 20,000 visas are available every year for workers from the Balkan region with no set income, skill or language requirements. Implementing such a model more widely would represent a practical first step for Chancellor Scholz' ​"new partnership" with the Africa.