Evaluation: UNHCR and Humanitarian-Development Cooperation
Efforts, Factors, and Effects of the Nexus Appraoch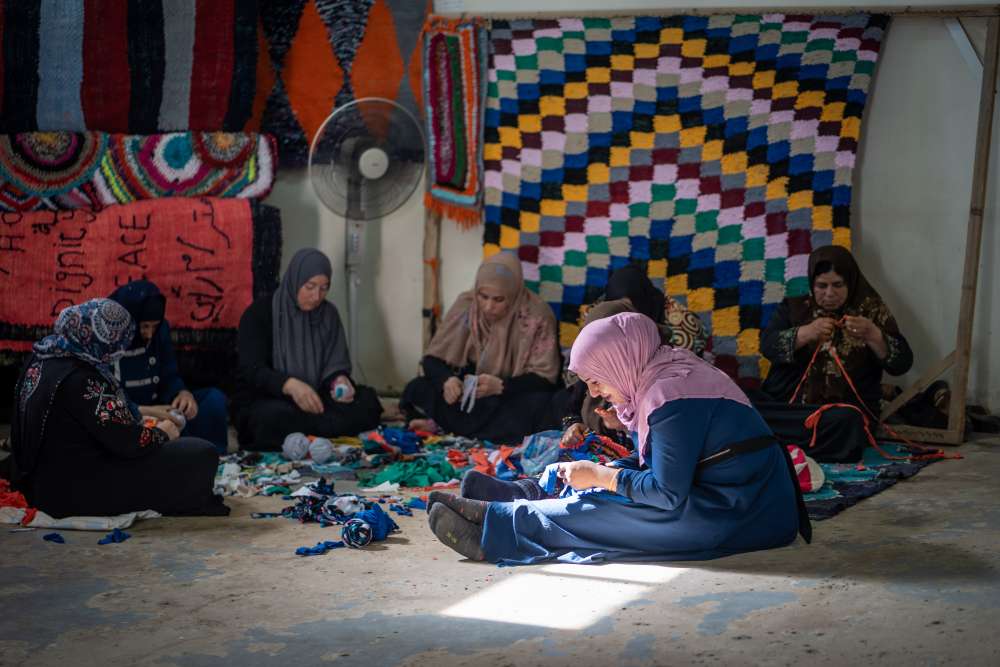 Syrian women enrolled on the cash-for-work programme, handcrafting rugs at the Za'atari refugee camp in Jordan. Source: UN Women /​Flickr
Traditionally, humanitarian actors provide emergency relief and support post-crisis recovery efforts, while development actors work with governments to improve people's socio-economic conditions longer term. However, as situations of forced displacement grow longer and more protracted, this distinction has become increasingly difficult to uphold – and the classic ​'division of labor' between humanitarians and development actors is being called into question. On the flip side, many who work in humanitarian or development organizations now recognize that there is a meaningful link between efforts to address forced displacement and longer-term development work in contexts affected by conflict and crises.

For this reason, the international community has committed itself to changing how it responds to forced displacement. The new vision is that a wide array of relevant stakeholders with different skill sets and specializations should collaborate to protect and respond to the immediate needs of refugees and internally displaced people while also working together to strengthen their self-reliance and resilience longer term, including by better supporting the countries and communities that host refugees. This new model goes by different names, but we refer to it as humanitarian-development cooperation or the humanitarian-development nexus (or Nexus).
The United Nations High Commissioner for Refugees (UNHCR) is the world's biggest organization with a primary mandate to serve and protect people who have fled persecution, war or natural disasters. As such, it is a central arbiter in ensuring the success of the Nexus agenda. The organization has endorsed several important, internationally agreed-upon policy documents related to this new operating model. These include the UN's New Way of Working and the Global Compact on Refugees, which encompasses a Comprehensive Refugee Response Framework. As a result of this commitment, UNHCR is currently in a transition phase: it is adjusting to new ways of working that follow from the objectives of Nexus agenda while simultaneously striving to retain its capacity to deliver life-saving aid in acute emergencies.
To gauge how UNHCR is doing in its endeavor to strengthen cooperation with development actors, and to assess the effects of its most recent efforts and identify good practices that can inform future reforms, the UNHCR Evaluation Office commissioned GPPi and the International Security and Development Center (ISDC) to conduct a multi-stage independent evaluation. As external evaluators, we accompanied UNHCR over the critical period of mid-2018 to late 2022 and studied its engagement in humanitarian-development cooperation.
We proceeded in two phases:
Phase One: Taking stock of

UNHCR

's engagement in humanitarian-development cooperation and helping the organization refine its strategy (

2018

−

2021

);
Phase Two: New learnings and follow-up recommendations from

UNHCR

's cooperation with development actors post-

2021

(

2021

−

2022

).
How does UNHCR cooperate with its development partners? And how does their partnership affect refugees? This report offers findings from a three-year-long first phase (2018−2021) evaluation with the International Security and Development Center.
This evaluation presents the findings of the first phase (2018−2021) of a longitudinal study of UNHCR's engagement in humanitarian – development cooperation.

How does UNHCR cooperate with its development partners? And how does their partnership affect refugees? This report offers findings from the one-year-long second phase (2020−2021) of a longitudinal evaluation with the International Security and Development Center.
The Results in a Nutshell
Phase One (
2018

−

2021

): Taking Stock and Helping

UNHCR

Refine its Strategy

In the first three years, the evaluation team took stock of UNHCR's current level of cooperation with development actors. Moreover, we assessed the effects of this cooperation and supported UNHCR in refining its strategy as well as its operational approach to cooperating (more) with development actors. This phase concluded with a set of recommendations by the evaluation team vis-à-vis UNHCR, interactive infographics highlighting the main findings and a formal response by UNHCR's senior management.

In phase one, we focused on four case-study countries: Bangladesh, Ethiopia, Jordan, and Niger.

We answered five questions:
What is the status quo of humanitarian-development cooperation?
Which factors facilitate or hinder better cooperation?
How relevant and effective are recent measures taken by

UNHCR

to enhance cooperation with development actors?
What effects does such cooperation have on

UNHCR

, on development actors, and the respective host governments?
What effects does the cooperation have on affected people?
Phase One Results
Phase Two (
2021

−

2022

): Assessing Humanitarian-Development Cooperation Post-

2021

In an extension of the project through 2022, the evaluation team accompanied UNHCR during the follow-up period triggered by phase one of the evaluation and assessed the organization's efforts to implement the recommendations that resulted from our evaluation of the first three years. Moreover, phase two generated new learnings from successful cases of refugee inclusion in practice.

For this phase, we focused on three case-study countries: Kenya, Mauritania and Jordan.

We answered four questions:
How consistently is

UNHCR

implementing the change objectives laid out in its formal response to the strategic recommendations made as part of the initial evaluation?
Do different stakeholders perceive

UNHCR

's planned actions to be effective? And what, if any, gaps in planned actions have emerged?
What have been the tangible and measurable effects of humanitarian-development cooperation on the lives of refugees and other persons of concern, particularly in relation to the inclusion agenda?
What good practices and lessons emerge with regard to

UNHCR

's inclusion agenda? What gaps and opportunities for collective action remain?
Phase Two Results

Project report
02 August 2023