Europe and NATO: Time for Plan B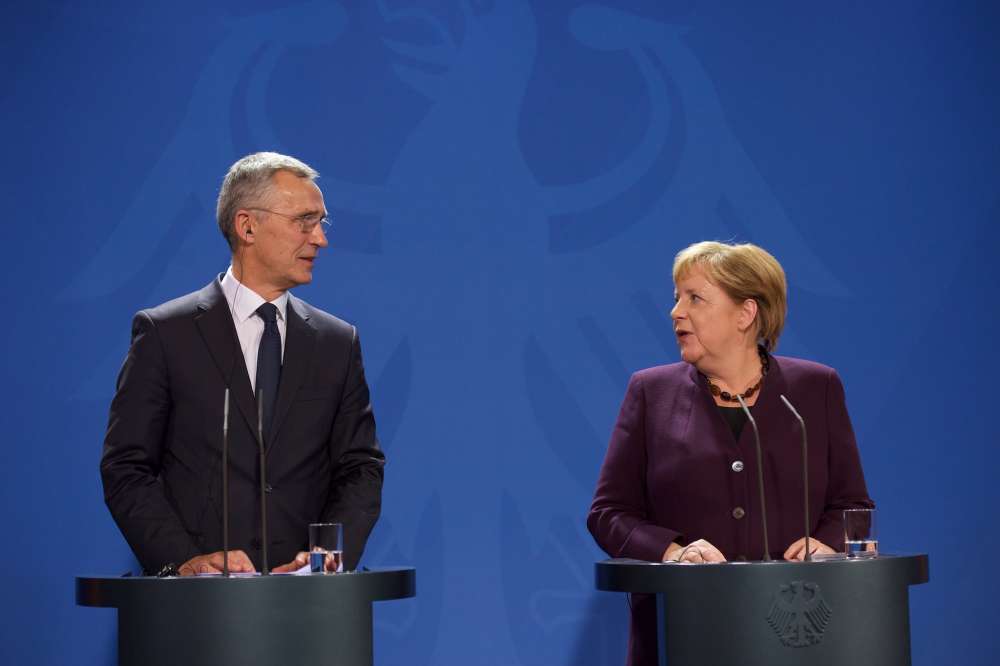 A joint press conference with NATO Secretary General Jens Stoltenberg and German Chancellor Angela Merkel. Source: NATO /​Flickr
There was a clear winner of the NATO summit in London on the 70th anniversary of the Alliance: French President Emmanuel Macron. With his statement calling NATO ​"brain dead," he achieved something remarkable – a commitment by US President Donald Trump in support of NATO. Trump, who had previously denounced the organization as ​"obsolete," rejected Macron's statement as ​"very, very nasty" and said that NATO served ​"great purposes". It is thanks to Macron's crude discussion impulse that NATO is now launching a ​"reflection process under the aegis of the Secretary General" with the aim of ​"strengthening the political dimension" of the Alliance. This is also a success for German Foreign Minister Heiko Maas, who brought this proposal into play as a reaction to Macron's statements. It is exactly this kind of political discussion that the French president wants. As he made clear in the press conference following the summit, Macron is looking for fresh answers to questions like: How do we guarantee Europe's security against Russia, China, and the dangers of terrorism? What are the strategic aims of NATO? How do we deal with each other within the Alliance?
For our eastern neighbors in Poland and the Baltic, the answers are clear: only the US can guarantee Europe's security. NATO's main purpose is to protect against an aggressive Russia. But these answers are not enough for Macron – and for good reason. The most important one is that there is no eternal guarantee for Europe's protection by the US. The German-European deal with the US is unique in history – an unconditional security guarantee, combined with the freedom to take political counter positions and compete economically. No other hegemon has ever offered such an all-around carefree package – and that is precisely why it is reasonable to assume that the arrangement will not last in the medium and long term.
Even after Trump, there will be no return to the status quo ante. Joe Biden may still sound like the old transatlantic world, but we should not fool ourselves. It's not just the fringes on the left and the right that are shaking things up in the US – the foreign policy establishment is also rethinking things, especially among the younger generation. Josh Hawley, a Republican and the youngest member of the US Senate, summed up this change last month in a speech on the readjustment of US foreign policy. According to Hawley, the biggest challenge for the US is its strategic competition with China. While Russia remains a serious threat, the US cannot take care of everything, and allies must now bear their share of the burden. Plus, were the US ever forced to choose between Europe and the Indo-Pacific, it would focus on the Indo-Pacific.
It has become clear to Macron that the US could eventually end its security guarantee for Europe. Europe, in turn, must develop a plan B to ensure its own security. To advance this discussion, Macron announced a speech about the future of nuclear deterrence, including a possible European umbrella based on French nuclear weapons, for early 2020.
Germany needs to get ready for this debate. Right now, the country is woefully unprepared. Both the Left Party and transatlantic traditionalists are feigning simple answers. For Die Linke, Germany's far-left party, the matter is clean-cut: even Stefan Liebich, likely the biggest realist among the party's foreign policymakers, considers the Alliance to be a ​"left-over zombie of the Cold War" that ​"no one really needs anymore." The far-left would consider the end of the US protection guarantee as an increase in security for Germany – they see neither Russia nor China as threats that require deterrence.
For traditional champions of transatlanticism, the discussion itself is a non-starter – they simply refuse to contemplate what they do not want to be true. They seem to ignore that the decision about security guarantees is not in Europe's hands, but rests squarely with the US. And their concern that building up Europe's capabilities will provoke a premature end to US protection is unfounded. European power resources have dual-use character: in the worst case scenario, Europe would have to use these capabilities to defend itself without the US umbrella. In the best case, however, Europe could contribute them to the Alliance. And despite the occasional grumbling, any US government will prefer a partner with its own capabilities to whiny free-riders.
Of course, building up such capabilities and, even more so, engaging in talks about a European nuclear deterrent comes with domestic political costs – which is why Germany's Chancellor Angela Merkel has been so passive in the debate. She has not ventured beyond her now-famous beer tent remark from the 2017 election campaign trail, where – in one of her typical Merkel-isms – she said that ​"the times when we could completely rely on others are over." She has stayed silent ever since about what that means in terms of building up Europe's own capabilities. At least the new CDU leader Annegret Kramp-Karrenbauer seems to want to go further.
The leaders of Germany's Green Party and Social Democrats (SPD) present an even worse picture. Annalena Baerbock, co-leader of the Greens, has been pushing for the end of Europe's participation in the US extended deterrence. Meanwhile, the newly elected SPD co-leader Norbert Walter-Borjans fired against NATO's 2 percent target and the alleged ​"militarization" of German foreign policy under Kramp-Karrenbauer's leadership. The statements by both party leaders are probably more folklore for the party base than a serious formula for Europe's security in a world of growing geopolitical tensions.
A large part of the population seems to be thinking further ahead. According to a recent survey by the Körber Foundation, only 22 percent of Germans believe that we can continue to rely on the US nuclear shield. As much as 40 percent say that Germany should strive for a European umbrella, guaranteed by its nuclear powers France and the United Kingdom. And 52 percent of Germans say they are prepared to double the country's defense spending if this guarantees greater independence from the US. These data points indicate that quite a few are ready for a debate that moves into uncomfortable territory – one we can no longer afford to put off.
---
This commentary was originally published in German by taz on December 09, 2019.